Offline
CanBiotech Inc. said

22 months ago
15th Edition Pharma Resource Planning and Portfolio Optimization
Philadelphia, PA | Option to attend virtually
February 22-24, 2022 | 08:30 EDT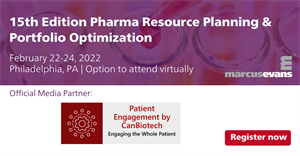 Directing Strategy, Decision Making and Resource Optimization for Optimal Portfolio Success 
The marcus evans 15th Edition Pharma Resource Planning and Portfolio Optimization conference will explore how to drive strategic decision making and optimization in resource planning to foster the portfolio success in times of uncertainties. Risk Mitigation strategies to raise the Resilience of the Portfolio will be discussed. This unique, practical case study led event will focus on how to accelerate growth by an optimized short- and long-term planning. We will discuss how to optimize portfolio prioritization in environment of continuous changes to sustain a successful pipeline. We will discover the role of new modalities and how they can improve the portfolio and raise the ROI. Our expert speaker panel will also look into how innovative tools and methods can improve decision making and enhance portfolio strategies.
Attending This Premier marcus evans Conference Will Enable You to:
Optimize short and long-term planning to mitigate risks and foster a robust portfolio
Determine best PPM strategies to adopt evolving global trends and market demands
Harness a more flexible resource planning and portfolio prioritization to ensure the pipeline success in times of uncertainty
Utilize new modalities to foster portfolio robustness by a broader and more balanced portfolio
Accelerate growth by gaining better market insights through data analytics & AI
Leverage innovative tools and new technologies to enhance decision-making relating to resources, projects and the portfolio
Facilitate collaboration and clinical trials by remote, decentralized strategies
Who Should Attend:
SVPs, VPs, Directors, Heads, Managers, Senior Executives of:
Portfolio Planning / Strategy / Operations
Portfolio/ Project / Product / Management
Pipeline / Resource / Program Management
Portfolio / Project / Decision Analysis
Product Lifecycle Management
Commercial Portfolio / Commercialization
For more information please contact: Ms Ria Kiayia, Digital Media and PR Marketing Executive at riak@marcusevanscy.com or visit: https://bit.ly/3HGe5Mu 
About this channel
6,338

views

254

posts

1

follower

1 subscriber is following updates on this item.
---